Balenciaga's Disgusting Exploitation!
InBranding, Celebrity News, Fashion Posted onDec 7, 2022
Remember, the moment may have passed, but the lessons are timeless. So what can we learn as business/brand owners from this snapshot in time?
From provocative to dam-right disgusting, let's discuss how the brand Balenciaga, known for its unconventional campaigns, takes shockvertising a step too far!
Unless you have been hiding under a rock, you will be aware of the controversy surrounding the Balenciaga brand.
Earlier this month, Balenciaga dropped its new holiday ad campaign, leaving the world speechless. One photograph shows a child in a string vest holding a bondage gear-clad teddy bear. Another shows a handbag resting on documents from the Supreme Court case United States v. Williams, a ruling that upheld the PROTECT Act, which increased federal protections against child pornography.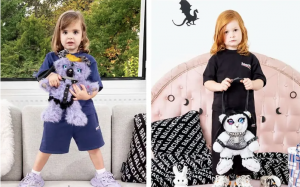 So what could lead Balenciaga to create such an appalling and damaging campaign?
Tired of being stuck and want to grow your brand or business for free, click here.
Lets Talk Shockvertising 
Shockvertising is a controversial branding technique used by brands to leverage the reach of their advertising. 
Intended to deliberately startle or offend viewers by violating social norms and personal ideals, brands use this graphic content to break through the advertising noise.
Studies have found that: the powerful emotional reactions we tend to have to this form of graphic content has a longer-lasting effect than fearful or informational content alone. And research implies that the feeling of shock may actually imprint itself more permanently in the mind leading to long-term behavioural change.
This is why brands often take the gamble because, for the same budget, you can exponentially increase your reach, spark global conversation and create a lasting memory in your consumer's mind.
And when it comes to branding, as a business and brand owner, this is the ultimate prize. Imagine owning a space in the minds of your potential customers, clients or followers, so as soon as they have a problem, you are a solution to they think of you. To learn more, click here.
In the early 2000s, French Connection launched a campaign around the acronym FCUK (French Connection United Kingdom); the slogan "FCUKinkyBugger" caused outrage with 132 public complaints in Britain. 
In response, French Connection put the sign "Sorry FCUK" in its store windows, attracting even more young consumers to their high street shops this increased sales from £6.4 million to £19m.
And more recently, we witnessed the Kim Kardashian sex tape scandal and Little Naz X's launch of the Satan shoe.
Balenciaga's Response
In response to the backlash, Beleciaga issued two statements via Instagram. Regarding the bondage bears, they said they
"should not have been featured with children in this campaign…" and shared similar sentiments about the "unsettling documents."  
They then said, "we take this matter very seriously and are taking legal action against the parties responsible for creating the set and including unapproved items for our Spring 23 campaign photoshoot. We strongly condemn abuse of children in any form. We stand for children's safety and well-being."
Meanwhile, Gabriele Galimberti, the photographer who took the photos, released a statement exonerating himself.
"I am not in a position to comment on Balenciaga's choices, but I must stress that I was not entitled in whatsoever manner to neither chose the products, nor the models, nor the combination of the same," he wrote. "As a photographer, I was only and solely requested to lit the given scene and take the shots according to my signature style."
On Nov. 27, although many argued too late, Kim Kardashian — a brand ambassador, issued the following statement.

"I have been quiet for the past few days, not because I haven't been disgusted and outraged by the recent Balenciaga campaigns,"

Her statement went on to say she is currently reevaluating her future relationship with the brand.

"basing it off their willingness to accept accountability for something that should have never happened to begin with."
And On Nov. 25, Balenciaga filed a $25 million lawsuit against the set designer Nicholas Des Jardins and North Six, Inc; however, they subsequently dropped the claim. The suit claimed that the Williams documents were included
"without Balenciaga's knowledge or authorization"
and continued that as a result of the
"defendant's misconduct, members of the public, including the news media, have falsely and horrifically associated Balenciaga with the repulsive and deeply disturbing subject of the court decision."
The Fall Out

However, despite the public apologies, and desperate attempts at damage control, consumers are not buying it. Instead, cancel culture is out in force, with many angry consumers destroying their Balenciaga apparel, live on TikTok as an act of outrage, and some stores have been defaced as a result.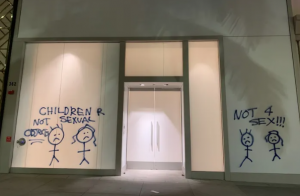 Many speculate that this gives a clear insight into the brand's actual values and that the blatant attempt to glorify child pornography is a sign Balenciaga has a link to the occult, child trafficking, devil worship, the Illuminati and Baal. And looking at the images, you can see why.
There are a lot of subliminal images within the images. For example, in the image below, there is a child's drawing of the devil, the occultist-looking black hoody; they have included a lone candle similar to a séance prop from an occult horror flick. Even the trainers could be seen as representative of the devil.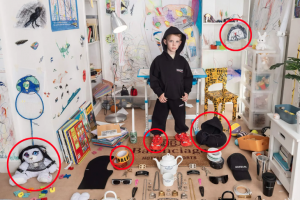 And then there is the roll of yellow Balenciaga tape with the label's name misspelt with two As, forming "Baal." Baal was reportedly an ancient fertility god worshipped in many ancient Middle Eastern communities, including the Canaanites, who were infamous for sacrificing children.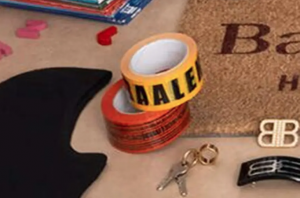 So all that is left to be seen is whether Balenciaga will truly be held accountable for the actions or whether this boycotting is just another TikTok trend, as time in these situations has been known to be the great healer. Soon the public may forget and move on to the next public outrage. 
Most likely, Balenciaga will seek to play the long game and come up with a miraculous publicity stunt focused on combatting child trafficking, and all will be forgiven. Especially as Cédric Charbit, president and CEO of Balenciaga, in a statement, expressed that The company has already created a fund to "help make a difference protecting children."
I guess only time will tell.
The Moral Of This Branding Story:
Living in a clickbait society, where at times, you may be desperate to get your product or service out there, shockvertising can be a very tempting prospect.
Even though it is a powerful technique to get people talking, it can also damage you and your brand and hurt others in the process.
Remember, before you decide to do something to shock, think long and hard as to whether what you are about to do aligns with your values and whether you would be happy to defend your stance or take the consequences of any backlash.
HAVE YOU EVER ASKED ANY OF THESE QUESTIONS:
Then, click here to begin your branding journey with me and my team by downloading this fantastic free ebook and 90minute training & getting a 7-day FREE trial to the Brand You To Success Academy.

READY TO START OR GROW YOUR BUSINESS JOIN THE BRAND YOU TO SUCCESS ACADEMY!
If you are anxious about starting or growing your business and brand, then the NxSpot Academy is here to help.
LEARN:
The best way to set up or grow an "expert" or "advice" sharing business so it can first scale into 6-figs and then ultimately into 7-figs.
​​How to set your marketing on autopilot to attract clients "On Demand" to learn from you, hire you, buy your product or services or do business with you in less than 24hrs.
​How to combine your passions, talents, and unique personality traits into a magnetic brand package that will help you or your business to STAND OUT and attract more followers, customers or clients.
​​How to take a stranger to premium-paying client as quickly as possible without having to lower your price.
How to considerably reduce the amount of wasted time you're spending on social media so you can earn more and work less.