Andrew Tate: How Branding Lead To His Rise & Demise!
InBranding, Celebrity News Posted onJan 21, 2023
Trigger Warning: some viewers may find this content disturbing!
Remember, the moment may have passed, but the lessons are timeless. So what can we learn as business/brand owners from this snapshot in time?

He says women belong in the home, proclaims women can't drive, thinks rape victims should take responsibility and teaches that women are men's property. 
Now arrested on charges of rape and human trafficking in Romania. 
Let's discuss Andrew Tate, the branding tactics that led to his popularity and downfall and what it says about the nature of our society.

Not going to lie; as someone that loves his mother and has a close relationship with my sister, filming this guerilla-mentary and writing this piece was tough, but here goes.
The Arrest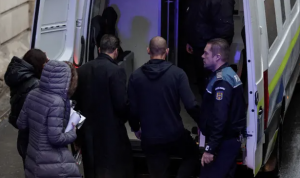 Last March, prosecutors launched an investigation into Andrew and his brother after it was alleged that one of the brothers had raped a trafficked woman; it's thought that they had been conducting a 9-month investigation.
Investigators have so far seized 10 properties belonging to the Tates in Romania, as well as 15 luxury cars – three Porsches, two BMWs, two Ferraris, an Aston Martin, a McLaren, a Lamborghini and five Mercedes – and 14 luxury watches.
They have been accused of recruiting their victims by seducing them and falsely claiming to want a romantic relationship.
The victims were then allegedly taken to properties outside Bucharest where they were forced "through physical violence, mental intimidation and coercion" to produce explicit content for social media sites, generating large profits.
The prosecution has so far identified six victims, including minors. And two Romanian women, Georgiana Naghel and the former police officer Alexandra Luana Radu are suspected of having acted as the brothers' accomplices.
Styled as a self-help guru, offering his mostly male fans a recipe for making money, pulling girls and "escaping the matrix."
Andrew Tate, born in the UK, has been courting fame for years, with a short-lived stint on big brother and a career in MMA, but his brand began gaining mainstream traction in 2022.
Being a business and branding strategist, I was curious how someone who holds such harmful views could become such a prolific figure in our so-called modern world and decided to find out why.
Target Audience, Brand Voice & Imagery: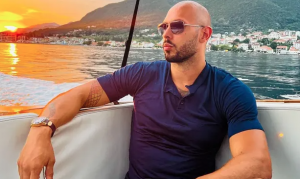 Andrew Tate has clearly Identified his gap in the market, his micro-niche.
As the self-professed King of toxic masculinity, he seeks to be the voice of young men struggling to figure out what it means to be a so-called "real man" and Insels, people who define themselves as unable to get a romantic or sexual partner despite desiring one.
Everything about Tate's brand image appeals to them, such as his posing next to fast cars and scantily dressed women, his misogynistic rants and his toxic masculine standpoint.
He is the alpha male with everything these men want and professes to show them how to get it. His appeal has made him the most searched man on the internet and has garnered him over 12bn views.
When you listen to Andrew Tate speak, not only is he being hateful to women, his rants are designed to trigger these men and rally them into action.

But it is important to understand the action that he is goading them to take.
The Why!
Andrew does not care about helping the men as much as he would want them to believe; from studying his brand, he clearly cares about money, power and fame. Thus, every word he speaks is designed to stir up enough hatred within this fanbase to drive them to make use of the 2 solutions that he has created. 
Hustlers university and his webcam service, more on that later.
If that wasn't dangerous enough, Andrew has used his brand to turn his audience into a movement. 
Let me explain.
Andrew Tate is often heard speaking about the Matrix and the red pill and blue pill: the blue pill symbolising the brainwashing and lies he believes have been perpetrated by feminism. 
The red pill represents the formed resistance he and his believers are taking against the left, liberal, feminist, progressive movement, which they say are tools used by the Matrix to enslave society.
This has created a strong "them and us" scenario and creates the impression to those vested in Tate that they are fighting for something bigger themselves, which binds his fanbase and fuels their action.
The Product: Hustler's University.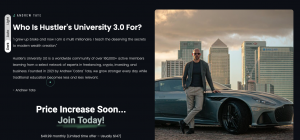 You can not discuss Andrew Tate without discussing Hustlers University, which, since the allegations, has been closed for business.
Hustler's University is a paid membership that his audiences can join for $39 a month. 
From a branding perspective, his name, price point and business model are no coincidence; it is perfectly crafted to the men he is targeting.
It is also an affiliate marketing scheme with his members getting a percentage for every person they encourage to join the academy. 
This is, in fact, one of the components that helped Andrew Tate spread like wildfire all over social media.
And you may have guessed some of the content is absolutely shocking.
In a leaked lesson, Tate describes how he would deal with a woman who accused him of cheating: "It's bang out the machete, boom in her face and grip her by the neck. Shut up bitch." 
Advocacy groups and women's charities described the material as "extreme misogyny" and said it risked radicalising young men.
Shockvertising!
Shockvertising as a branding campaign is Andrew's go-to for getting his message out there, and this informs his brand's voice. 
He intends to deliberately startle and offend viewers and trigger the men by violating social norms and personal ideals; this is designed to break through the advertising noise and create viral content.
One guide for students said attracting "comments and controversy" was the key to success on TikTok, adding: "What you ideally want is a mix of 60-70% fans and 40-30% haters. You want arguments, you want war."
It is estimated that he had over 168,000 users and earned over $ 5 million a month from the university.
And has led to the following rants going viral:
"Why would you be with a woman whos not a virgin anyway (sic)? She is used goods. Second hand."
Comments like this led to him being banned from all social networks until a few months ago when Elon Musk reinstated him on Twitter.
Which he recently used to start a Twitter spat with Guetta Thunburg.
Tate tweeted: 'Hello Greta Thunberg. I have 33 cars…Please provide your email address so I can send a complete list of my car collection and its enormous emissions.'

In response Miss Thunberg issued a brutal comeback in a tweet to her 4.9 million followers, saying: 'Yes, please do enlighten me. Email me at smalld***energy@getalife.com.'
10 hours later, he tweeted out a pompous video in which he seeks to reassert his masculinity and status in a dressing gown, with a cigar and a pizza box as props. Not long after that, he and his brother Tristan Tate were arrested by Romanian authorities in connection with appalling allegations.
So What's The Moral Of The Branding Story?
If you are thinking about growing a business or brand online, think very long and hard about the ethics and ecology of that brand.
Branding tools are very powerful, but they are neutral and solely dependent on the intention of the people who use them.
As always, join in the conversation in the comments – I want to know your thoughts on Andrew Tate.
HAVE YOU EVER ASKED ANY OF THESE QUESTIONS:
Then, click here to begin your branding journey with me and my team by downloading this fantastic free ebook and 90minute training & getting a 7-day FREE trial to the Brand You To Success Academy.

READY TO START OR GROW YOUR BUSINESS JOIN THE BRAND YOU TO SUCCESS ACADEMY!
If you are anxious about starting or growing your business and brand, then the NxSpot Academy is here to help.
LEARN:
The best way to set up or grow an "expert" or "advice" sharing business so it can first scale into 6-figs and then ultimately into 7-figs.
​​How to set your marketing on autopilot to attract clients "On Demand" to learn from you, hire you, buy your product or services or do business with you in less than 24hrs.
​How to combine your passions, talents, and unique personality traits into a magnetic brand package that will help you or your business to STAND OUT and attract more followers, customers or clients.
​​How to take a stranger to premium-paying client as quickly as possible without having to lower your price.
How to considerably reduce the amount of wasted time you're spending on social media so you can earn more and work less.