Trump: Racist, Misogynist, Sociopath or Branding Genius? You Decide!
InBranding, Business, Celebrity News, Social Media Posted onNov 29, 2022
Remember, the moment may have passed, but the lessons are timeless. So what can we learn as business/brand owners from this snapshot in time?
Former President Trump has been described as a racist, misogynist, sociopath, and the devil reincarnate, but how about banding genius? That I will let you decide.
Let's investigate how branding created the 45th President by charting the pivotal moments that steered the Trump brand to the Presidency, what we can learn from them and where it all went wrong.
Tired of being stuck and want to grow your brand or business for free, click here.
Trump's ascension to President can be traced back to the 20th May 1976 and the refurbishment of the Commodore Hotel project in Manhattan.
This is where Trump, the brand we know today, emerged. Trump was relatively unknown at the time and still living in the shadow of his father, Fred Trump, a prolific real estate developer. 
To Trump, this was the perfect project to get the Trump brand on the map, as it seemed impossible to pull off. Unless he could convince the government to give him a 40-year grace period, the banks would not be willing to finance the project. 
When establishing and building a powerful brand, you have to understand how to capture the imagination of your potential clients and customers. 
And Trump's ability to paint a successful picture in the minds of his critics and possible investors was critical to the success of the Commodore Hotel. And as we will later see, paramount to his ability to run for the Presidency.
At this time, we get introduced to the Trump signature:
The HSB!
The hyperbolic sound bite (HSB). If you have ever watched an interview with Trump, you will notice, in response to any question: Trump rejects the negative, spins a positive (often a lie) and responds by reaffirming the positive/lie repeatedly.
The HSB became a prominent feature of his brand and would become a vice that he repeatedly used, especially during his run for the Presidency and his term in office.
Now that Trump has had a taste for the win, the next 2 milestones that shaped the early impression of the Trump brand were the construction of the Trump tower and the Wollman Rink.

The Publicity Stunt, Trump Tower & The Wollman Rink!
The 58-story, 664-foot-tall Trump tower, which opened in 1983, is an impressive mixed-use skyscraper that contains the headquarters of the Trump Organisation.
Wollman Rink: on the other hand, was an icerink that had been closed for renovation; however, due to 6 years of poor management, Donald Trump offered mayor Ed Koch to take over the rebuild.
The curation and build of these two projects could be viewed as a stroke of branding genius and show Trump's desire to have the world know his name.
By naming the building after himself, Trump had turned the Trump tower into a permanent billboard. And due to the magnitude of the project and his ability to court the press, he managed to secure publicity on some of the most prominent networks and in some of the most prolific magazines of the time.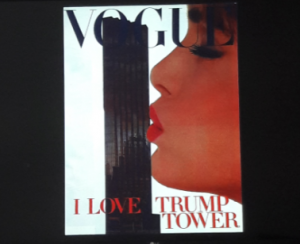 And some argue that the Wollman Ice rink was only ever a publicity stunt to prove that he could achieve where other prominent figures had failed and to win favour with the public by restoring a much loved public space, all in aid of growing his brand.  
So by the Mid '80s, it seems the Trump brand (the personal and the business brand) is in good shape. Trump has managed to steer them positively, associate them with money, wealth and power and garner great publicity. He is known as Trump the millionaire, Trump the charmer and an all-round good guy. 
The Divorce, "There Is No Such Thing As Bad Publicity"
However, the popularity of Trump's brand takes a hit towards the end of the 1980s as he is caught cheating and his marriage ends.
Trump's troubled marriage to Ivana became the subject of public interest over the Christmas holiday in 1989 when they were observed fighting on vacation in Aspen, Colorado, after Ivana encountered Donald's mistress Marla Maples.
According to the  Chicago Tribune, by February 1990, Donald had locked Ivana out of her office at the Plaza Hotel, and a legal battle had ensued over the legitimacy of their four prenuptial agreements.
The Trumps' divorce proceedings received worldwide publicity. And the divorce was finalised in 1992.
Although Trump's personal brand image took a hit after this, he weathered the storm relatively well and used the widespread publicity to fuel the business side of the brand. 
In this era of his branding journey, Trump runs with the principle that "there is no such thing as bad publicity. " This he will continue to use in the lead-up and during his time in office.
It is during this era of the Trump brand that it becomes clear that Trump is addicted to the publicity and the power that it affords him. Here, we see the true extent of his narcissistic personality and arrogance.
The Trump Taj Mahal Fiasco & The Power Of Perception!
Trump Taj Mahal was part of the Trump Entertainment Resorts, which was a gambling and hospitality company responsible for a mixture of hotel and casino resorts.
The company filed for bankruptcy in 2004 and 2009; however, Trump managed to ride the wave and maintain a minority share. But in 2014, things went really sour, and we saw the Trump business brand take a massive hit.
The Trump Taj Mahal, part of Trump's hotel and casino empire, was steeped in controversy from day one.

Many saw it as a bad business decision because Trump did not have the capital upfront to invest. Knowing this and eager for the project to go ahead, Trump lies under oath, stating that he had the unwavering support of the banks.
However, the banks refused to lend him the money, and he was forced to borrow $675 million in junk bonds, with a sky-high 14% interest rate. 
This was a terrible decision; by the time the project was finished, Trump owed nearly $3 billion dollars, and the Taj Mahal was making a loss of $1 million daily.
However, the unexpected move that Trump makes next shows us the power of perception when it comes to branding.
Despite making terrible losses and being in magnanimous debt, in June 2015, Trump takes the Trump brand public. Because of the solid public perception he had created over the years, shares in the company sell like hotcakes, making the brand over $1 billion dollars. And once again cementing Trump and his investor's belief in his Midas touch.
To pull this off using the power of perception, Trump makes a clear distinction between the public (how successful people think he and his brand is) and the private (what the brand is really worth), so the public perception is what he ultimately sells on the stock market.
The Apprentice.
The next significant milestone on Trump's branding journey comes in the form of 'The Apprentice'. The TV show where Trump searches nationwide to find his next business apprentice. 
After his very public bankruptcy, Trump uses the show to maintain face and keep his public persona intact, as a result, he is still viewed as a successful businessman, and someone to be associated with.
As Roger Stone, a key figure in trumps campaign, remarked, "you need to be universally known" to stand a chance at Presidency.
And by the time Trump decided to run for President as a result of the show, he had become widely known, and his popularity was at an all-time high.
His Journey To The Whitehouse.
Trump fraternised with becoming President in 1988, 2000, and 2012 before he finally went for it in 2014.
He had toyed with the idea so often that when his name surfaced again in 2014, many believed it was just another publicity stunt. 
However, I believe that Trump had always wanted to become President; however, until 2014, he did not have enough reassurance that he could win, but Twitter changes everything.
The Role of Twitter.
Twitter was introduced to Trump by Peter Costanzo, who was part of his marketing team who were marketing his upcoming book.
Peter Costanzo says it did not take much to convince Trump to use it, as he could instantly see the benefit of being in direct communication with his fans.
Once Trump's account was set up, Peter says they instantly started to see a growing interest from his followers in Trump running for President.
In my view, this is a game changer from a branding perspective because this is the first time that Trump has been able to find and directly communicate with his micro-micro niche.
Let me explain. Until Twitter, Trump only had access to what I call old media: TV, radio, newspapers etc. These forms of media use what I call a canon approach; they shoot their message across the airwaves to a broad audience in the hope that some of the people watching will be interested in what's on offer.
However, with social media, things changed, giving you, as a business and brand owner, the ability to get into direct communication with your micro-micro niche. The group of people that are specifically interested in what you have to offer and the vehicle to turn them into die-hard fans (people that will stand by you no matter what).
Twitter created a pathway for a disgruntled, disillusioned section of society to speak directly to Trump, and once he realised this, he exploited it, and Trumpism was born.
Trumpism is a term for the political ideologies, social emotions, style of governance, political movement, and set of mechanisms for acquiring and keeping control of power associated with Donald Trump and his political base.
This also marks the change in the direction of Trump's brand. 
For Trump, it is all about the win, and he would do anything to get it.
Peter Constanzo explains that Twitter became their focus group, based on what was popular with the followers, determined what Trump would include in his manifesto and message. 
For example, Peter talks about them coming up with the idea of Trump building the wall at the Mexico border. They ran it by Trump, who loved it, and when they posted the idea on Twitter, it got such an overwhelming retweet response that they decided to run with it.
Peter Costanzo said 100 retweets was their benchmark.
Jesse Ventura.
It is clear that Jesse Ventura influenced Trump's campaign and election style. The former wrestler successfully campaigned and was appointed governor of Minnesota on Nov 3rd 1998.
Dean Barkley, Jesse Ventura's campaign manager, explains that when Jesse Ventura won, Trump wanted a complete breakdown of the campaign and what led to their win.
Dean explained:
"People do not remember what you say, they remember how you said it.

Hold a rally, hold an event, say some stupid things to get press. 

Tell people what you think, you know, don't give them pre-prescribed what you think they wanna hear because if they think you're telling them the truth, they're gonna get excited, and they will support you."
It's clear that Donald wanted to do what Jesse did worldwide and if you think back to Trump's time in office and to Trump's current persona, it is clear that he stuck close to this advice. This can be seen by the instant rebrand and when Trump decided to be the public voice for the Obama citizen conspiracy.
The Instant Rebrand!

Trump became widely known during the 2016 election and subsequent presidency for his instant rebrands. This is where Trump creates a catchy hook to rename, criticize, insult, or express commentary about media figures, politicians, and foreign leaders.
For example
"Dumbo", was the rebrand that he gave to Rudolph Alles: Director of the United States secret service.

He created many for Joe Biden such as "Basement Biden", "Sleepy Joe" and "Slow Joe".

And "that woman from Michigan": was the rebrand he created for  49th governor of Michigan
this would serve to help him create dominance over the opposition and instantly undermine their credibility in the eyes of the public.
The Birther Conspiracy!
The final branding moment I want to highlight is the Birther movement, as this, I believe, set the tone for the rest of Trump's campaign and time in office. In fact, many people argue that this fueled Trump to finally throw his hat in the ring and run for President.
The movement asserted that Obama was ineligible to be President of the United States because he was not a natural-born citizen as required by Article Two of the Constitution. 
These views were predominantly held by conservatives, Republicans, and racists, with Trump at the helm.
Trump made many public appearances attacking Obama, insinuating that he thought the rumour was true and insisting that Obama prove his legitimacy by providing proof of his birth certificate. Something that had never been required of any former President.
Obama eventually conceded and produced his birth certificate. 
Many saw this as a victory for Trump, however in a very public dressing down of Trump, Obama emerged triumphant, and many speculate that the humiliation was the final nail that drove Trump to run for the Presidency:
Because very soon after, Trump registered the trademark "Make America Great Again", which became his campaign's slogan.
The Trump Brand Becomes A Movement!
Based on our discussion above, to conclude, I will give you my thoughts from a branding perspective on Trump's term in office. Firstly it's clear that his approach worked initially, as he did become the 45th President.
During his Presidency, it is clear that the Trump brand evolved from a brand into a movement. And to achieve this, he played a very divisive game.
Although during his time in office, he was labelled a racist, misogynist and sociopath, considered anti-establishment, and the threat of impeachment loomed. 
When we look at the trajectory of his branding journey, this kind of heat was nothing he was not used to.
However, what I believe Trump was not banking on, was the storming of the capital office; here, Trump lost complete control of his movement, and it took a life of its own. With his speech, in true Jesse Ventura style, he planned to leave in a blaze of glory, but I'm not so sure he envisaged the storming of the capital.
Nonetheless, Trump has walked away with a die-hard fanbase, a newfound movement, his own app and the entire world talking about him.
And all the developments around the lawsuit just give him more publicity.
Unless Trump actually does jail time, from what we know about Trump and his "no such thing as bad publicity view," this is a complete win in his eyes. All that's left to be seen is just what he plans to do with his brand from here.
HAVE YOU EVER ASKED ANY OF THESE QUESTIONS:
Then, click here to begin your branding journey with me and my team by downloading this fantastic free ebook and 90minute training & getting a 7-day FREE trial to the Brand You To Success Academy.

READY TO START OR GROW YOUR BUSINESS JOIN THE BRAND YOU TO SUCCESS ACADEMY!
If you are anxious about starting or growing your business and brand, then the NxSpot Academy is here to help.
LEARN:
The best way to set up or grow an "expert" or "advice" sharing business so it can first scale into 6-figs and then ultimately into 7-figs.
​​How to set your marketing on autopilot to attract clients "On Demand" to learn from you, hire you, buy your product or services or do business with you in less than 24hrs.
​How to combine your passions, talents, and unique personality traits into a magnetic brand package that will help you or your business to STAND OUT and attract more followers, customers or clients.
​​How to take a stranger to premium-paying client as quickly as possible without having to lower your price.
How to considerably reduce the amount of wasted time you're spending on social media so you can earn more and work less.